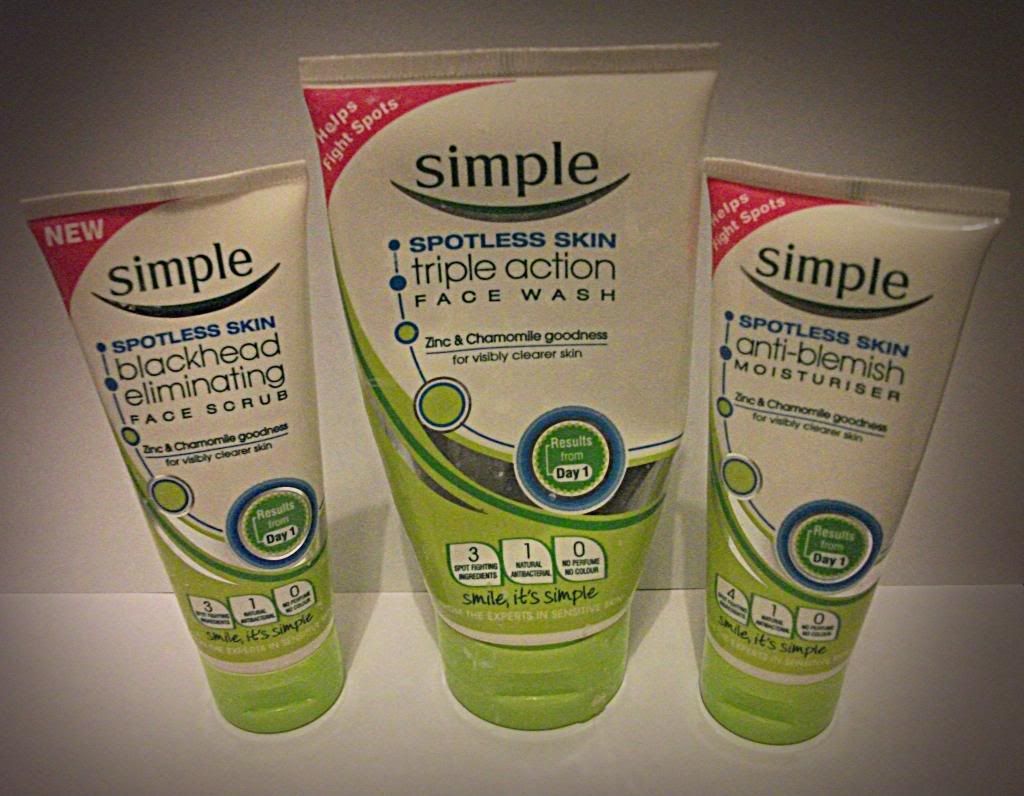 I'm a big fan of the Simple range, I've found the products I've tried so far really suitable for me. I have extremely dry, sensitive skin and it is prone to outbreaks so I like to keep a regular and intensive skin care routine. Whilst being kind to my skin and avoiding perfumed products or harsh chemicals.
First of all, the kind to skin cleansing facial wipes (see here:http://www.simple.co.uk/products/Kind-To-Skin-Cleansing-Facial-Wipes-25-wipes-66.aspx). Though more expensive than other brands, I think its well worth it for the quality and feel of these. I use them everyday to remove my make up and initially clean my face.
Then, the triple action face wash. I love the gel formula, its so gentle to use and I've noticed significant reduction in redness and size of blemishes within days of using it. I use it every evening to make sure I'm well and truly scrubbed.
After that, the moisturisers. The intensive relief cream is my lifesaver for keeping skin hydrated and preventing any flakiness (see here:http://www.simple.co.uk/products/Derma-Intensive-Relief-Cream-125ml-133.aspx). I use it every morning before putting on any makeup.
The anti-blemish moisturiser is what I use before bed for a softer moisturiser. I haven't noticed any considerable affect on spots, but its a handy 2 in 1 and so I was interested to try it.
Finally, the blackhead eliminating face scrub. I like to deep cleansing feel of the micro-beads and I've noticed an almost immediate reduction of blackheads! I use it twice a week as I don't find it necessary to use everynight.
Simple have a huge range of products, I hope to try out more soon x